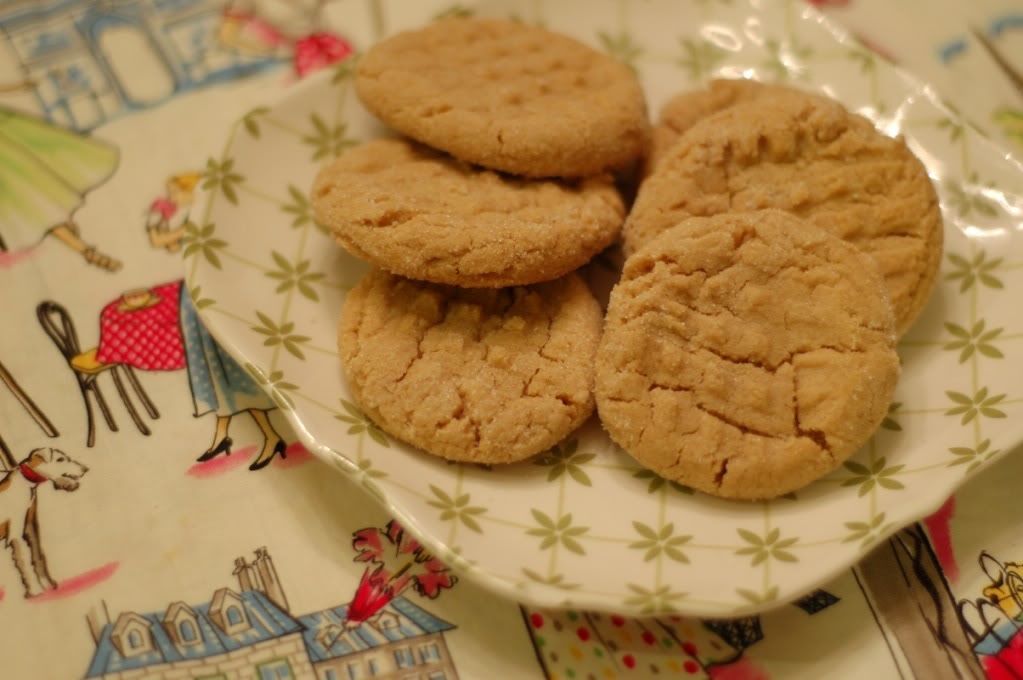 If I had to choose my last dessert, it would probably be cheesecake or some
pastry cream laced tart
. Certainly there would be mounds of strawberries on top. Now a cookie? I don't think so, but I do have an awfully hard time resisting them when they are on my counter (usually briefly in a tupperware, since they never make it to a jar). Really though, I think my tall man might actually choose peanut butter cookies as one of his all time favorites. Don't get me wrong, I think peanut butter cookies are yummy- but usually, they just make me want to
wrap them around candy bars
or drizzle them with chocolate or embelish them some way. But, since it's my tall man's birthday week and he was pulling weeds all morning I figured I could make the cookies how he liked them. This recipe is a little different than mine but I think the final product tasted almost identical, so I've included our family favorite version. I'd never rolled them in sugar, though, which was fun (especially since it made it so the tines of the fork didn't stick when I squished the cookies- a probably a usually remedy by dipping the fork into some flour every few cookies). Don't forget to
scoop them out
and
bake them on a Silpat
for uniform, picture-perfect results.Thanks for a great recipe choice,
Jasmine
! You made my husband a very happy man!
Are you an easy going peanut butter cookie man like my husband? What would your last dessert be?
Peanut Butter Cookies
by Anne Strawberry
1 cup softened butter
1 cup white sugar
1 cup brown sugar
2 eggs
1 teaspoon vanilla
1 cup smooth peanut butter
2 2/3 cups flour
1 1/2 teaspoons soda
1/4 teaspoon salt
Preheat oven to 375. Cream butter and sugar. Add eggs and vanilla and beat until well combined. Mix in peanut butter. Slowly add dry ingredients and mix until just combined.
Scoop dough out, place on baking sheet, spacing apart generously, and bake from 9-12 minutes until dough has set but before cookies take on too much color. Remove from sheet and allow to cool. Enjoy warm!