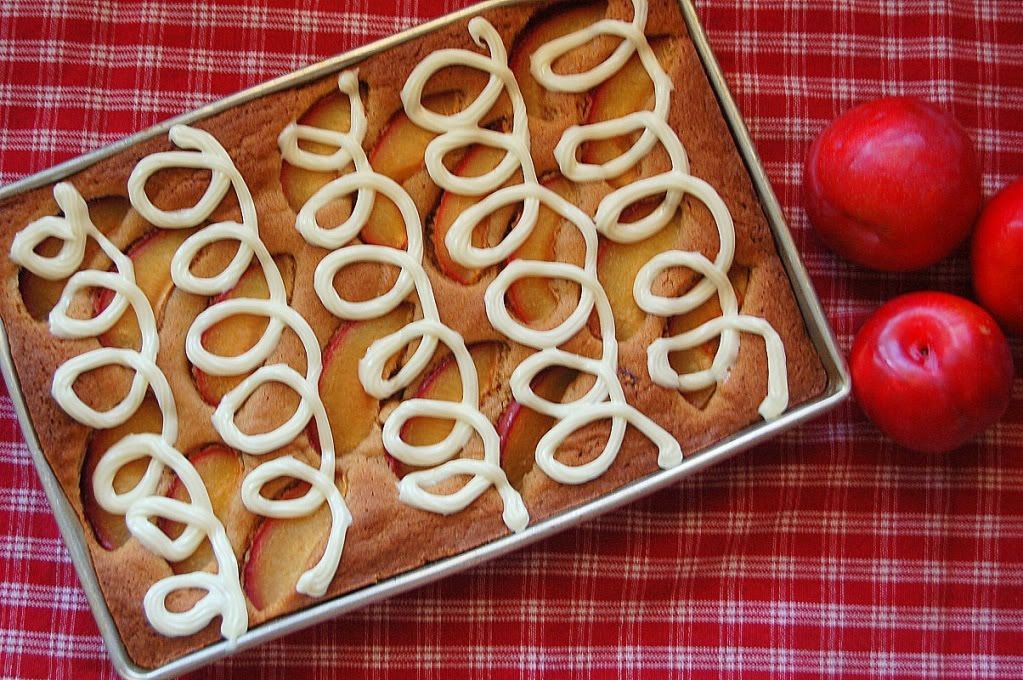 We're having a lazy morning around my house. My son slept in to 7:00 (haha, he's such an early riser) and we had a nice breakfast before we got to pressing projects like building duplo towers and folding laundry. Tonight we have a party to go to and the hardest part of the day promises to be a trip to Costco (on a Saturday). I'm also thinking over Baby Strawberry's upcoming birthday and what kind of baked good to make her. Surely something pink and covered in frosting. This cinnamon laced cake is delicious. I've made it before with pears or peaches so you can really use whatever similar fruit you have available (maybe I'll use raspberries next time). It's easy enough for my little man to whip up with me and I can pretend it's healthy with the whole wheat flour. Make this and in a few minutes your whole house will smell delicious. It's going to be a good day.
Let me know if you have any fabulous one-year-old birthday party ideas. Time is flying too fast and her day is only a couple of weeks away!
Adapted from Baking by Dorie Greenspan
1/2 cup whole wheat flour
2 teaspoons baking powder
1/4 teaspoon ground cinnamon (or cardamom)
5 tablespoons unsalted butter, at room temperature
3/4 cup (packed) light brown sugar
1/3 cup flavorless oil, such as canola or safflower
Grated zest of 1 lemon or orange
2 teaspoons pure vanilla extract
4 ripe plums, pitted, halved, and sliced into thirds (6 slices per peach)
Center a rack in the oven and preheat the oven to 350°F. Butter an 8-inch square baking pan, dust the inside with flour, tap out the excess and put the pan on a baking sheet. (I actually buttered my pan this time but a nice even spray of Pam with Flour would work here)
Whisk the flour, baking powder, salt, and cinnamon together.
Working with a mixer with the paddle attachment, beat the butter at medium speed until soft and creamy, about 3 minutes. Add the sugar and beat for another 2 minutes, then add the eggs, one at a time, and beat for a minute after each addition. On medium speed, beat in the oil, lemon zest, and vanilla. The batter will look smooth and creamy, almost satiny (with the whole wheat flour and cinnamon it will have a nice light brown color). Reduce the mixer speed to low and add the dry ingredients, mixing only until they are incorporated.
Run a spatula around the bowl and under the batter, just to make sure there are no dry spots, then scrape the batter into the pan and smooth the top. Arrange the plums in an evenly spaced pattern, lying each slice on it's side and slightly jiggling the pan just so the fruit settles comfortably into the batter.
Bake for 35 to 40 minutes , or until the top is honey brown and puffed around the fruit and a thin knife inserted into the center of the cake comes out clean. Transfer the cake to a rack and cool for 15 minutes- during which time the plums juices will seep back into the cake- then run a knife around the sides of the pan and unmold the cake. Invert and cool right side up.
Optional Accompaniments: Serve with whipped cream or a dollop of pastry cream for breakfast. For dessert, add a small scoop of vanilla or cinnamon ice cream. It's also cute frosted with a little cream cheese frosting.