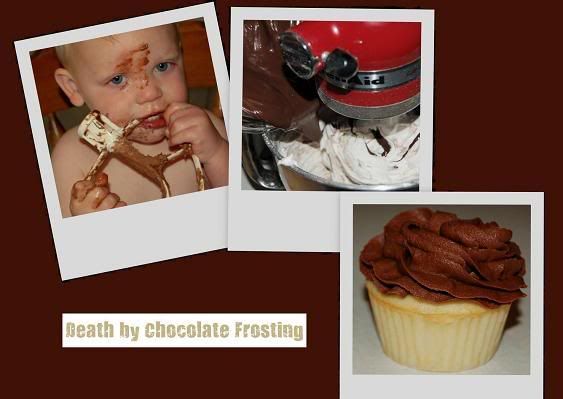 A couple months ago my friend
Anna
made the most delicious frosting to top some birthday cupcakes. She used the
Sprinkle's recipe
from Candace Nelson on Oprah and everyone loved it (more than one person just licked the top off a couple cupcakes after devouring their first!)
So naturally, I got the recipe from Anna and when I saw the pound of butter I almost fainted. I mean, it tastes good, but that's really not helping my skinny jeans goal! Let's be honest, any cupcake isn't helping that goal. Either way, I attempt to thin it out a little bit and I still think it tastes ridiculously delicious. After I frost my cupcakes I use the extra to make graham cracker cookies (our technical term for a cracker slathered with frosting and topped with another cracker, then frozen. Yum). Trust me, this is one recipe where you'll be licking off the beater. And the spatula. And the bowl (and then you'll be too sick to eat a cupcake, which is a fair trade for me!).
Death by Chocolate Frosting
1 Bag dark chocolate chips
2 sticks of butter, softened
3/4 bag powdered sugar
1 T. vanilla (use the good stuff)
1/3 C. Sour cream
2 t. Meringue powder
Melt the chocolate over a double boiler and set aside. In a stand mixer with the paddle attachment, beat the butter and vanilla until fluffy. Add the powdered sugar and meringue powder slowly (I usually add it all, cover the mixer with a towel, and turn in on low) and then beat until fluffy and smooth. Add the sour cream, mix, then add the chocolate and mix just until blended. Frosts two dozen cupcakes.