Last week at a Christmas party, my girlfriend and I were laughing at another friend's ridiculous food aversion. "No way will I eat onions, they're like tapeworms!" she repeated and we laughed. "Come on, everyone knows onions are nasty." Another chimed in against onions and added another equally repulsive (to her) food- tomatoes. Natalie and I just had to look at each other and laugh. When she said, "Well if you don't like onions or tomatoes I don't think I could make you anything for dinner" I had to agree. I can't imagine never eating those delicious foods again (come on, lasagna, best food of them all) but do understand the ridiculous food aversion.
My number one, can't do it food is coconut. No way on the texture (I'll refrain from posting what I identify it with since this is a food blog after all) and the flavor (sunblock? Apply not eat, thank you!) So when I saw this week's
Tuesdays with Dorie recipe
from
Cobbler du Monde
was an Apple Coconut cake I knew that wouldn't do. For a minute I even thought about growing up and making it with coconut since it was for my husband's coworkers anyway, but it turns out there isn't even any coconut in my house, which makes since considering I do all the shopping! So I just upped the apple, added some orange zest and juice to sub for the rum, and made it my own with a little more Greek yogurt (regular plain yogurt would work just fine, too) and a little less oil. Of course since I was already off the radar of the original recipe I added some orange zested frosting, why not? They are cupcakes, after all, and try as I may to grow up in my food preferences, frosting will always trump cake around here. Since they felt a little muffin-y I went light on the frosting, for me anyways. Really though, the orange, cinnamon, and vanilla pair so nicely with the apple and my house just smells like Christmas. Not bad for about 15 minutes of work (20 if you count the dishes). See the real deal with the other
TWD bakers
and come back later this week for a fun giveaway.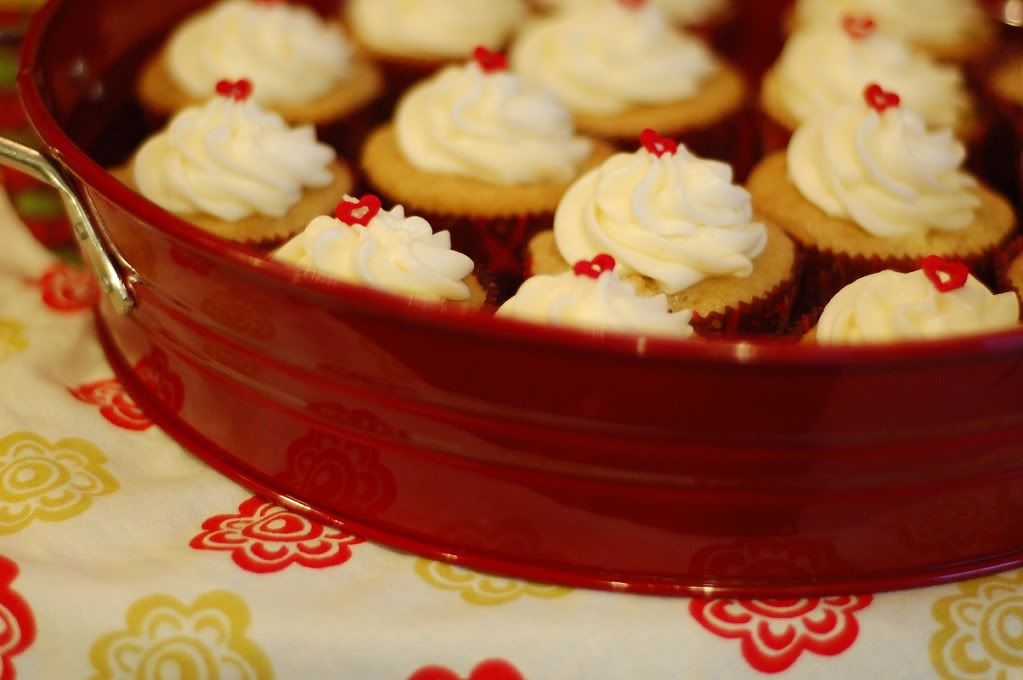 Apple Orange Holiday Cupcakes
from Anne Strawberry
loosely adapted from
Baking by Dorie Greenspan
1 1/4 cups flour
2 teaspoons baking powder
1/4 teaspoon baking soda
1/2 teaspoon cinnamon
pinch of salt
3 apples, peeled and cored (a mix of whatever you have on hand, I used galas and granny smiths)
zest and juice of one orange
2 large eggs
2/3 cup sugar
6 ounces plain yogurt (I used Greek Gods)
5 tablespoons canola oil
2 teaspoons vanilla
Preheat the oven to 350. Line about 18 muffin tins with paper wrappers, set on a baking sheet, and set aside.
Whisk together the dry team (flour, powder, soda, cinnamon, salt).
Peel and cut the apples into a small dice (I like to use my
apple peeler
). Zest the orange and then squeeze the juice from one half into the bowl- combine to prevent browning.
In a large bowl, whisk the eggs and sugar together for a minute or so. Add in the yogurt, oil, and vanilla and mix until nicely combined. Fold in the dry ingredients with a silicone spatula, being careful not to overbeat so the cake stays tender. Lightly mix in the apples and scoop into prepared muffin tins using an ice cream scoop.
Bake for about 20 to 25 minutes. Let cool and frost with
my favorite frosting
, whipped cream, or apple jelly.