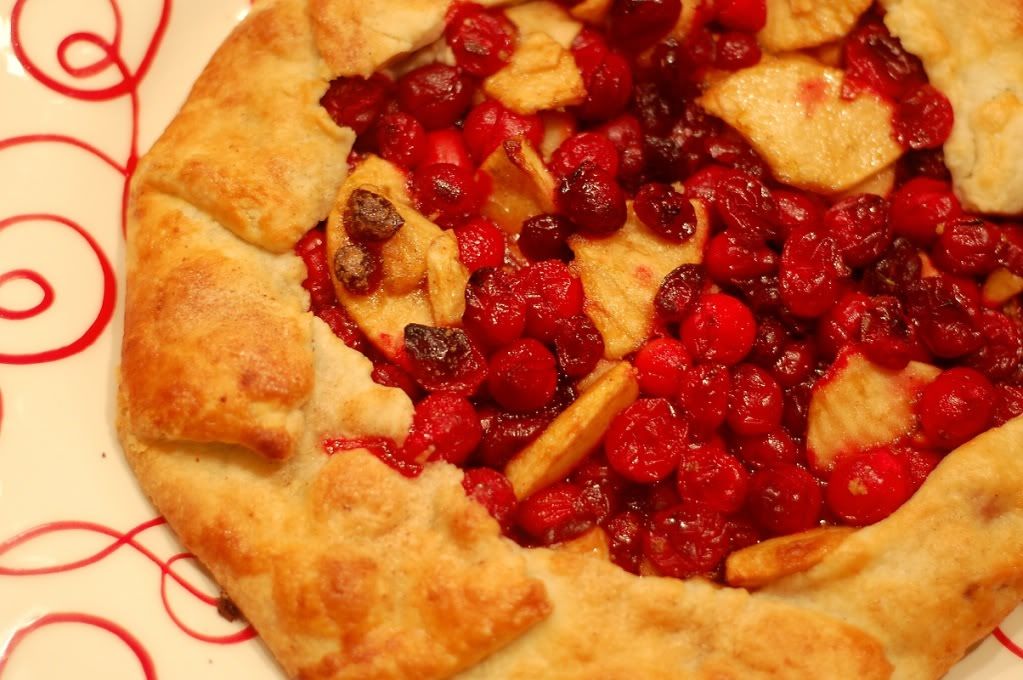 It's Tuesday and today I have a quick and delicious cran-apple galette. I don't think most people know what a galette is, but it's actually just an open-faced pie. I think it might even be easier than a pie because there's no need to put a pretty crust on top or crimp (I know that bugs some people). Just roll out the dough, put the filling in the center, and fold over the edges. Bake and enjoy. Dorie's pie crust is absolutely amazing- buttery, easy, and delicious. This lime and cranberry combo is new to me but it's really fun and tangy- just make sure you use enough sugar to compensate for the tart, fresh cranberries.
Now for the giveaway. I'm sure you've heard about CSN Stores in the blog world before- where you can buy anything from a
suitcase
to a rice cooker (that's what I just bought from them this weekend- I'll let you know how I like it once it's here!). This time around I have a $75 store credit to CSN Stores (for US or Canada residents only). Just leave a comment and let me know what your favorite type of pie is- I'll leave the giveaway open until Friday at midnight. I love apple pie (so I put extra in this galette of course). Whatever pie you make for thanksgiving, I would try Dorie's amazing dough and her tip to put a little bit of graham or bread crumbs on the bottom to soak up juice- it makes all the difference.
Good for Almost Everything Pie Dough
adapted from Dorie Greenspan
Ingredients
3 cups all-purpose flour
1/4 cup sugar
1 teaspoon salt
2 sticks very cold unsalted butter, cut into tablespoon-size pieces
3/8 cup very cold (frozen is even better) Crisco (plain, not butter flavored), cut into 4 pieces
About 1/2 cup ice water
Put the flour, sugar and salt in a food processor fitted with a metal blade; pulse just to combine the ingredients. Drop in the butter and shortening and pulse only until the butter and shortening are cut into the flour. Don't overdo the mixing—what you're aiming for is to have pieces the size of fat green peas and others the size of barley.
Pulsing the machine on and off, add 3 tablespoons of the water—add a little water and pulse once; add some more water and pulse again; and keep going that way. Then use a few long pulses to get the water into the flour. If after a dozen or so pulses, the dough doesn't look evenly moistened or form soft curds, pulse in as much of the remaining water, or even a few drops more, to get a dough that will stick together when pinched. If you've got big pieces of butter, that's fine. The dough is ready and should be scraped out of the work bowl and on to a smooth work surface. (be careful not too add too much water- if the dough looks dry after adding most of the water, pinch it with your hands to check if it's coming together, and finish combining it by hand)
Shape the dough into a disk and wrap it. Refrigerate the dough at least 1 hour before rolling. The dough can be kept in the refrigerator for up to 5 days or frozen for up to 1 month.