I'm aware the title of this recipe is overly long, but what are you going to do? When I saw the simple and delicious chocolate ganache recipe for this week's
Tuesday with Dorie
treat, I knew it would be a great recipe to experiment with. I had a chocolate mint Lindt bar in my chocolate stash that provided all the inspiration I needed. I also had a lovely jar of homemade hot fudge sauce in my fridge from a banana split party and figured a little more chocolate and cream couldn't hurt, so I swirled it in after it finished churning. And since I can't leave well enough alone, I also added some
chopped mint chips
.
The final product? Delicious. And I don't even like chocolate ice cream. But like my tall man said (as he stared longingly at the final, toxic-for-him-chocolate-laden goodness) it's not nasty fake chocolate flavored ice cream. It's cream and chocolate, lovingly combined into frozen deliciousness. Yum.
Grab the recipe from Katrina
. She's amazing with ice cream and I bet she even found a way to lighten up this cream laden treat!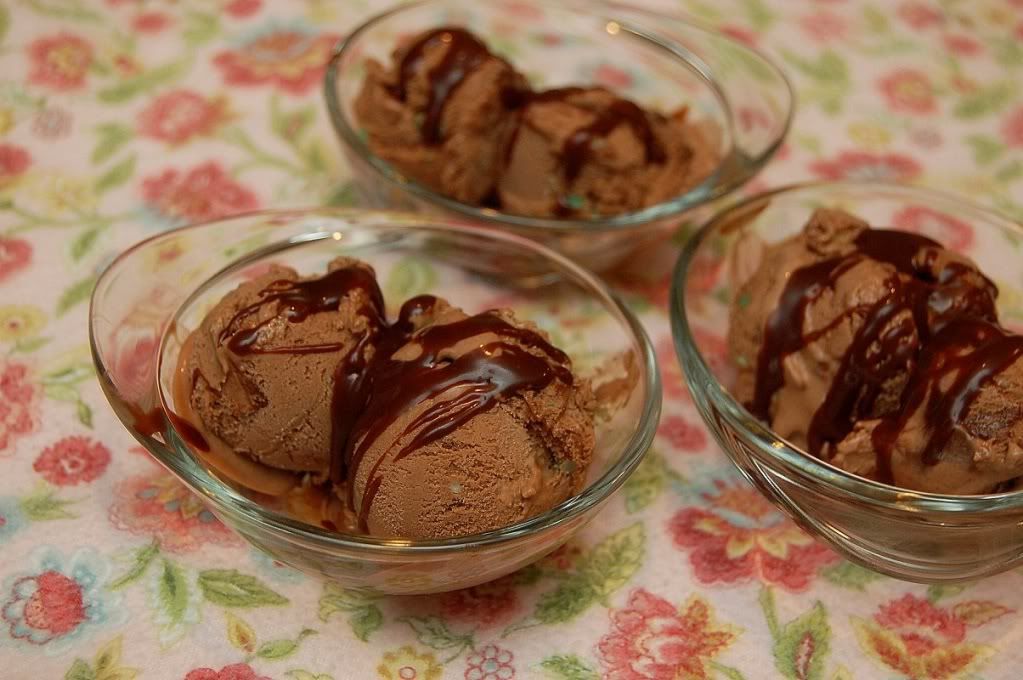 Easy Hot Fudge Sauce
from
Baked by Matt Lewis and Renato Poliafito
*Note- this yields a little over two cups of sauce- I will halve the recipe next time
6 ounces milk chocolate, finely chopped
6 ounces dark chocolate, finely chopped (I used milk and semisweet chocolate chips- it's almost a whole bag put together)
1 cup heavy cream
1/4 cup light corn syrup
Place both chocolates in a heatproof bowl and set aside. Bring the cream to a simmer over medium, stir in corn syrup, and remove from heat. Pour over the chocolate and let sit for 2 minutes. Whisk until smooth, starting in the center and moving out. Cool, cover tightly, and keep refrigerated.
Reheat the sauce in the microwave by cooking in 20 second intervals, stirring in between, until desired temperature is reached.